Mr. C Spaceship
A quest to document information about a unique 1960's traveling outer space simulator ride.
Thanks to the kind folks at Matt's Carnival Warehouse Forum, it appears that the ride
I seek might have been a Star Flyer Rocketship made by U. S. Amusements or U. S. Amusement Corporation (a subsidiary of Champion Industries). The search continues!

Timeline added at bottom of site. Documenting known rocket ship simulator ride history.
(With grateful thanks to John Bonaccorsi for his invaluable assistance.)
.
---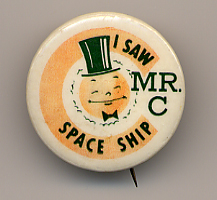 ---

Am I the only person who remembers the touring Mr. C Spaceship outer space ride from the early 1960's? I hope not!
The purpose of this website is to document this large, traveling simulator-type kids ride. Hopefully, others who might be searching for information about this unique piece of amusement Americana will find this site and we can share information. As the ride was promoted by the Florida orange juice industry, I did try asking them about the vehicle, but they had no information. I also searched trademark, patent and copyright archives but found nothing. I suspect it was a one-of-a-kind promotional display.
As a child growing up in Philadelphia, there were always fascinating things that a kid would look out for. One that comes to mind was the Oscar Meyer Weinermobile. When that was in the city, it generated lots of excitement as it drove down the streets and made promotional appearances. But, the Oscar Meyer Weinermobile wasn't the only touring promotional vehicle that I saw in Philadelphia.
I distinctly recall visiting the large Mr. C Spaceship that was parked behind the Lit Brothers Department store in Northeast Philadelphia, near Castor and Cottman Avenues. "Mr. C" was a reference to "Vitamin C", as in the vitamin C from orange juice - or possibly Tang, the breakfast drink. It may have been parked there because the Food Fair grocery store was also nearby. I seem to recall it being a spaceship-shaped ride on a flatbed truck. You climbed the stairs to get inside of the elevated ride. You sat in one of the several rows of chairs. A movie screen was at the front of the ship and after the door closed, your blast-off began. The screen showed your ride into space and the front of the entire chamber "lifted" and tilted backwards pointing you to outer space - and this made it one of the first simulator amusement rides that I know of. The exact same set-up is being used today at rides in Disney World, etc. so the origins for this kind of ride could easily go back to this unit. The Mr. C Spaceship simulator took advantage of our new-found fascination with space travel in the 1960's.
A souvenir pin, was given to me at the time, and it is the only item I have as proof that the ride existed. I would love to document the ride, learn its origins, its travels, its development and its building. A big plus would be to unearth some photos (inside and outside) of it! Seeing the film again would be a dream-come-true. It must exist somewhere.
Is there anyone out there that remembers the ride? If so, please write!
Mr. C Spaceship - where are you?
---
August 2008 update:
EUREKA!
Someone else remembers taking a ride on the Mr. C. Spaceship! I received word from John Bonaccorsi that he and his younger brother both went on the spaceship behind Lit Brothers Department store. His memories were, in some ways, even more vivid than mine.
"Actually, I don't remember it by name. I just remember that it was there, briefly, behind Lit Brothers and that my brother and I rode on it one evening -- probably while my mother was in the store and my father was tending us in the parking lot. As I recall, the movie that played was crafted to give the impression that its images were a view through a window at the spaceship's front. At one point, a man-sized monster appeared and was seen struggling to get in through the window. The announcer said something like, "Ladies and gentlemen, do not be alarmed. Gargon can not enter the spaceship." After that, Gargon -- or whatever his name was -- flew away and out of sight, as if he were a bug moving through outer space. He was a man in a monster suit; he was pretty scary."
"Again -- this is all very vague; but my own recollection is that the monster's appearance was jarring, a touch of pulp fiction in what was otherwise scientific. ("Now, we are passing through an asteroid belt.") The monster's entrance and exit were primitive, I think. He just swung in and out at edges of the frame; he wasn't seen approaching from, or heading off into, the distance. Discovery of the film would, indeed, be a triumph; it could be sitting in someone's garage."
---

Rocket Ship Simulator Rides: A brief timeline
1939:
New York World's Fair was to display a Flash Gordon rocket ship ride. Motion and movie effects are supposed to have been used. A photo of a miniature model of the ship was published in Mechanix Illustrated magazine.
Here is how it was described in the April 1939 issue of Mechanix Illustrated:
"As a matter of fact, one smart inventor has devised a ship that takes passengers to Venus, which is part of the way to the moon. Unlike the other rides, his rocket ship never really leaves the ground, but for all the sensation accompanying the trip, you would never know it. This latest is "Flash Gordon's" own rocket ship, designed by George H. Messmore and Joseph Damon. It is 80 feet long and seats 125 people. Once filled, the doors are closed, levers are turned, switches pulled, "anti-gravity" and forward-speed controls are manipulated and suddenly the ship is in darkness. As you watch from the observation tower the ship seems to enter outer space. Familiar constellations flash by and presently the ship lands on Venus. Another door is opened and the passengers alight on a strange planet, where animated images of prehistoric animals and iron-clad "Martians" present a fascinating show. The flight through space is actually a movie flashed on the screen, but the illusion is effective."
No other reference can be found that this ride was ever actually constructed, or exhibited at the Fair. In fact, a World's Fair expert and author was asked, and they had never heard of such a space ship ride at the 1939 Fair in New York.
1955 at the latest: Luer Quality Meats, located in or near Los Angeles, California, creates a traveling promotional rocket that contains a movie-projection apparatus of some sort. Click here to see the rocket. Click here to learn of its fate.
1958: Knoebels Amusement Resort (Elysburg, PA) completes in-house construction of "The Rocketship," whose film is produced by Alex Habershaw, of the Captain Video television series.
~June 25, 1958: Oakland policemen John Taggart and Sam Daugherty open a prototype "Star Flyer" at Peralta Playland in Oakland
July 6, 1959: After settlement of a lawsuit over cost of its construction, Taggart and Daugherty's executed "Star Flyer" (or "Star Flyer Rocketship") heads to Dallas. It debuts at the Texas State Fair (
October 10-25, 1959)
. Shortly after the ship heads to Texas, a second ship is scheduled to go to Belmont Park in San Diego. Taggart and Daugherty do business as U.S. Amusements or U.S. Amusement Corporation, which, at some point, is a subsidiary of Champion Industries.
~1959: Taggart and Daugherty install a Star Flyer at an unidentified venue in New Orleans.
1960: Three more rides -- apparently Star Flyers -- are built. One travels with Royal American. The other two are installed at parks: Palisades in New Jersey and Riverside in Massachusetts.
Early-to-mid '60s: The traveling "Mr. C Spaceship" makes a stop in Philadelphia.
June 15, 1963:
Amusement Business reports that "N.Y. Astroland Units Swing into Action." An accompanying photo of Coney Island's then-new "Astroland" shows a spaceship simulator-ride that the caption identifies simply as "Space Ship auditorium." The ride appears to be a Star Flyer, which is how it's identified in an early photograph of its ticket booth. Eventually, it becomes known simply as the Astroland Rocket. It actually debuted in the park in 1962. It is operated into the 1970s.
Here is a link to the Coney Island History website and some fabulous photos of the Astroland Rocket.
~1977: The "Astroliner," built by Wisdom Manufacturing, appears.
------------
Feel free to mail any information to:
Bruce Clark
P.O. Box 1545
North Wales, PA 19454
Send an email to: Roadside (at) netreach (dot) net
Also - did you ever eat at The Golden Wheel In?