THE WORLD OF
THE PRISONER:
| Main Page/ Joining Details| Magazine/Convention | Latest News |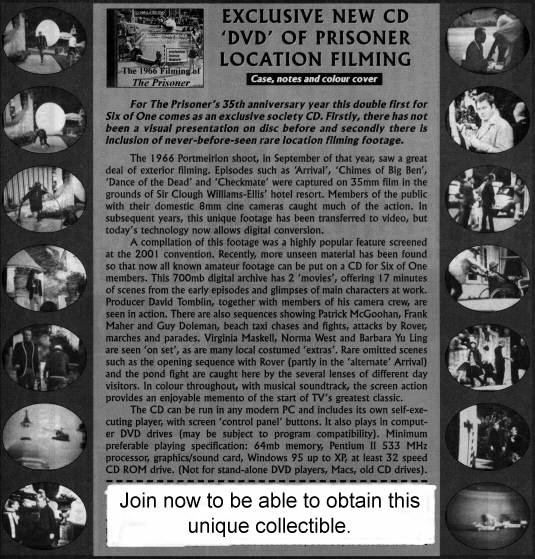 ---
MOVIE NEWS
Any additional movie news will appear in our magazine.
July 19th, 2001
Recently, anonymous emails have been sent to us, claiming to be from an insider involved with the Prisoner film. These reports could be 100% true, we have no way of knowing. Because these emails cannot be verified, we believe that the responsible thing to do is not to repeat them here. When you read a newspaper article crediting "anonymous sources", the source IS known to the reporter, who keeps the source a secret. We have no idea if these emailed reports are true or not. They could be totally made up, a dis-information campaign or even the complete and honest truth! And while we sincerely appreciate any and all information we are given, we cannot take unverifiable information and repeat it. So, you won't read these reports here. We can keep a secret, we can protect a source. But we can't print anonymous "leaks".
July 8th, 2001
World Entertainment News Network is reporting:
THE PRISONER TO BE MADE INTO A FILM
Jul 07, 2001 (WENN via COMTEX) --
Cult 1960s TV show THE PRISONER is to be made into a movie with British actor CLIVE OWEN set to take the lead role. THE CROUPIER star Owen is likely to play NUMBER SIX, the secret agent held among a brainwashed population by a mysterious regime. In the strange show, regarded as an allegory of modern life, prisoners were known only as numbersand massive balloons smothered anyone attempting to escape. TOMB RAIDER director SIMON WEST is take on the job of making the film, which is expected to be a hit. But West, who also directed CON AIR, warns that it is going to be very bizarre- a different type of film-making. West says, "My aim is not to do anything nostalgic, although I will be sneaking things in that Prisoner fans will spot."PATRICK MCGOOHAN, the original Number Six, has helped write the script.
July 3, 2001
British website Empire Online is reporting:
Sitting down with Tomb Raider director Simon West today, Empire Online went fishing for some details about one of his upcoming projects - a big screen version of The Prisoner.
'We're just at script stage at the moment,' West told us. 'I'm always developing two or more things at once. This was actually supposed to be done before Tomb Raider but the script wasn't ready.'
So will West be shooting on The Prisoner's original set - the village of Portmeirion in North Wales? 'I would definitely want to shoot part of it there, West says, 'but this film is going to be on a much bigger scale. And also just go to a whole level. Portmerion wouldn't be big enough stylistically to be the whole film.
Given the intense interest being shown in the film from the hordes of Prisoner fans out there, we wondered how much of the original programme would make it into the movie. 'From being a fan as a kid, out of nostalgia I would want to put as much of the key stuff from the series in there, like his car or the location,' West told us.'I'd even like to get Patrick McGoohan in there if he's at all interested.'
McGoohan, who wrote and starred in the TV series, was one of the first people to be involved in the film script which has finally made its way to West. 'I don't know whether he's over it,' says West, 'but I want to wait until I've got a finished script I'm happy with before approaching him.' And what about rumours that he's already offered McGoohan's original part - Number 6 - to Clive Owen? 'It's just that,' he smiles, 'internet rumours.' Clive Owen: 'It's internet rumours.'
June 8th, 2001
(from the Sci-Fi Wire, a service of the Sci-Fi Channel )
West Eyes Prisoner Film
Director Simon West (Tomb Raider) told SCI FI Wire that he is awaiting the final draft of a screenplay for a proposed feature-film version of the cult 1960s SF series The Prisoner. Speaking to press while promoting his latest film, West said he hopes to show the Chris McQuarrie script to series creator and star Patrick McGoohan to gain his endorsement for the project.
The Prisoner is the story of a British intelligence agent, known only as No. 6, who finds himself detained by unknown sinister forces in a picturesque seaside town simply called The Village. Since it left the air in 1967 after only 17 episodes, the surreal series has remained in the public consciousness, spawning conventions and fan organizations such as The Prisoner Appreciation Society.
Several attempts have been made to adapt The Prisoner to the screen over the last 30 years, but none has made it past the early development stages until now. West hopes to start filming at Pinewood Studios in London--where much of Tomb Raider was shot--towards the end of this year.
September 19th, 2000
Scriptwriter Christopher McQuarrie, who is working on The Prisoner screenplay, was quoted by the Popcorn UK website as saying that fans shouldn't worry about the new film. He says that he will remain true to the show and that he would do "everything I can to not contemporize it." He added, "The characters work the way they were, I'm going to go straight up, old school."
April 17th, 2000
From "The Telgraph" (UK newspaper)
TELEGRAPH Saturday 15 April 2000
Prisoner recaptured
A big-screen version of cult television series The Prisoner has been the talk of Hollywood for years. It has fallen to British director Simon West to make it.
John Hiscock reports
NINE years after arriving in Hollywood with $400 in his pocket and a driving urge to become a film director, Simon West is packing up and returning home to England. He now has an "A-list" reputation built on two blockbuster films, which allows him to dictate where, when and how he will make his future projects.
So, back in London, with his Hollywood Hills home on the market, West is working on a project that has intrigued him for as long as he can remember - making a big-budget film version of the cult Sixties television series The Prisoner.
Considered by many to be the most thought-provoking series ever made, The Prisoner ran for 17 episodes on British television in 1967. It was created, written and produced by Patrick McGoohan, who also starred as the former secret agent Number Six, who was abducted and imprisoned in a sinister community known as The Village.
The project has finally fallen into West's hands because McGoohan sold the rights some years ago and, after a few detours, they ended up with with Universal Studios, which is financing the film. But first West has to handle the little matter of spending $80 million of Paramount Pictures' money on Tomb Raider, a film based on the popular video game featuring action girl Lara Croft, which he will begin filming at Pinewood in June.
"It's nice to come home to do an English blockbuster film on a scale that hasn't been seen before," he says. "It has a very large budget with huge special effects."
It has been a remarkable rise for 38-year-old West, a former BBC editor from Letchworth, Hertfordshire who, during his relatively short time in Hollywood, has landed himself on the list of a handful of directors who can be relied on to pull audiences into the cinemas and put money in the bank.
His two films, Con Air with Nicolas Cage and The General's Daughter with John Travolta, have so far brought in about $500 million and have made him a director whom major stars are eager to work with.
Life was very different at the BBC where, he says, the old boy network blocked his chances of ever becoming a director, so he and friends used BBC equipment at night to make their own short films. He did rock video work and then decided to follow the example of fellow Britons Ridley and Tony Scott, Alan Parker and Adrian Lyne, who had become successful feature-film directors after working on TV commercials.
West adeptly worked the Hollywood system. After making award-winning commercials, he began to receive offers to direct what he calls "dinosaur in space"-type films. But he was bold enough to turn them all down and wait. Eventually, producer Jerry Bruckheimer contacted him and offered him a choice of scripts. "If you see anything you like, we'll make it," Bruckheimer told him.
West picked Con Air, which, with a $75 million budget, was the most expensive film ever for a first-time director. "It could have been a big failure. I could have blown all the money and disappeared without trace, but, if I pulled it off, it would be big. Luckily, I got away with it," he laughs.
"Looking back, it seems so incredible. At the time it seemed very natural and I suppose I had a naïve confidence. It was just a film - how hard could it be? Then I realised in the middle of it just how big it was and what it was like to make a Hollywood studio film with everything that comes with it - Nicolas Cage and John Malkovich and a huge cast - but when you're in the middle of it there's nothing you can do but get on with it, finish it and survive."
"I didn't realise how unbelievably hard it was going to be."
West emerged from Con Air hardened in the ways of Hollywood, having discovered that, when he began filming, the studio had a list of other directors ready and waiting to replace him if the executives did not like what he was shooting or if he was running late or over-budget.
"They'll give everyone a chance in Hollywood," he says, "but, if you fail, they'll chew you up and spit you out. They don't give you a second chance. The Hollywood system is so competitive. It's like a big chess game. You have to learn how to survive in the system. You have to spend about 80 per cent of your time dodging and weaving and manoeuvring and manipulating, compared with 20 per cent making films."
Now he has learned to play it so successfully, why is he walking away? "Don't get me wrong, I love working here," he says, sipping a glass of red wine in a Beverly Hills hotel during a quick trip back to put his house up for sale, squeeze in some meetings at Universal and audition actresses on his way to choosing Angelina Jolie for the Lara Croft role.
"I love the way they get everything done so quickly and that there's tons of money. But, once you're established, there's no reason to be here and I just prefer life in London. I'm a city boy and I like to be able to walk down to the newsagent in the morning to buy my newspapers."
Although Tomb Raider is the next of his projects to be filmed, West is continually fine-tuning the script for The Prisoner, which he first saw on television with his father when he was six. He watched it again in repeats as a teenager and an adult. When he was a child visiting his grandmother in mid-Wales, she would drive him in her Morris Minor to the village of Portmeirion, where it was filmed.
Just as the plots of The Prisoner were based on paranoia and subterfuge, West's plans are being avidly monitored and disseminated by Six of One, a worldwide organisation of Prisoner fans who put out news bulletins, hold conventions and worship Patrick McGoohan.
"It's pretty scary really, because they have so much inside information,"says West. "It's like something out of The Prisoner - if you look on the internet, they know every little detail about decisions we were trying to make and what an early script was like. But it's good because it gets the buzz going."
The ever-watchful Six of One will be relieved to know that, although the action in the new version will take place in various parts of the world, West, a devoted fan himself, will take the cameras at some point to Portmeirion. "It won't be the main base, but I can't make The Prisoner and not shoot there," he said.
West becomes animated when he talks about bringing The Prisoner to the screen. "Obviously, we're not remaking the TV series because that was very episodic and they basically did the same things every week," he says. "The world has moved on since then, so people expect bigger things. It's going to be very contemporary, but it has to have the same emotional themes and paranoia as the original. There will be a lot of twists and surprises, and, for much of the time, you won't know where you are. "It's such a bizarre concept," he continues. "It's like doing a puzzle - nothing and no one is what they seem."
Several of the world's leading male actors have already expressed interest in the starring role of Number Six, says West, but he has not yet made his choice. "Lots of Hollywood actors would love it," he says, "but some of them are booked up for 18 months in advance. I'm probably going to go for the best actor, not necessarily a star."
And what about the creator and star of the original series? Now aged 71 and something of a recluse, McGoohan lives in the Pacific Palisades area of Los Angeles. At the time I spoke to West, he was hoping to get McGoohan involved but was worried that the actor might be "sick to death" of The Prisoner.
His fears were groundless. Last week news came through that McGoohan is to be joint executive producer of the film with West. Fans of the TV series can rest easy.
April 5th, 2000
Wednesday April 5 2:02 AM ET
Mendel unlocks ``The Prisoner'' for Universal
By Charles Lyons and Dave McNary
HOLLYWOOD (Variety) - In his first major assignment at Universal since moving his production shingle from Disney last September, Barry Mendel (''The Sixth Sense'') has committed to produce ``The Prisoner'' with Oscar-winning scribe Chris McQuarrie (''The Usual Suspects'') set to pen the screenplay.
Director Simon West (''The General's Daughter'') is still attached to take the helm of the picture, based on the 1960s cult British TV series ''The Prisoner'' created by Patrick McGoohan.
McGoohan, who starred in the original series, will serve as the project's executive producer along with West.
Allegorical, controversial and even surreal, the television series was about a man who found himself trapped in a village where everyone has a number but no name. It addressed such themes as the individual and society, the philosophical nature of freedom, the concentration and abuse of power, and the destructive worship of progress.
Though McGoohan wrote a script in 1996, Mendel, McQuarrie and West have elected to return to the source material rather than the earlier screenplay.
``For me, this project is a huge responsibility because there is such a cult following for the show,'' said Mendel. ``But with Simon West and Chris McQuarrie it's going to be a cool and commercial movie. When I came to Universal, this was exactly the kind of movie I wanted to do.''
Speaking to Daily Variety last November, West said: ``My father turned me onto the series in the late '60s, and I was so obsessed that when I visited my mother in Wales, I made her drive me four hours to the set.''
Along with Sam Mercer and M. Night Shyamalan, Mendel is currently producing writer/director Shyamalan's follow-up to ``The Sixth Sense'' -- ``Unbreakable.'' He is also onboard to produce the Jodie Foster-helmed ``Flora Plum'' for USA Films and scribe Hossein Amini's ``Shanghai'' for Phoenix Pictures. His producing credits include ``Rushmore. ``
West is directing ``Tomb Raider,'' based on the video game, at Paramount. A vid helmer turned director, West's credits outside of ``The General's Daughter'' include''Con Air.''
In addition to ``The Usual Suspects,'' McQuarrie's credits include ``Public Enemy'' (which he co-wrote with Michael Dugan and Bryan Singer) and the forthcoming pic, which he also directed for Artisan, ``The Way of the Gun. `` He is also one of the writers of Fox's ``X-Men,'' due in theaters in July.
Reuters/Variety
---

Outstanding Prisoner book!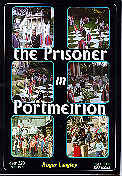 Comprehensive book by Six of One Coordinator debuts in the Portmeirion Prisoner Shop!
"The Prisoner in Portmeirion" by Roger Langley
From the back cover:
"Who can forget the classic British TV series The Prisoner? Patrick McGoohan starred as the imprisoned secret agent, known only as 'No.6'. The Prisoner has been shown all around the world, bringing the magical resort of Portmeirion to the attention of millions. Now, The Prisoner in Portmeirion presents for the first time a complete look at the cult TV series being filmed. More than 200 pictures capture once again the original location scenes."
"A uniquely assembled collection of photos provides a previously unseen view of The Prisoner from behind the camera, in Portmeirion. The pictures, many not published before, are grouped to identify the exact places where particular scenes were shot. Past maps are also reproduced, to show how the resort was represented at the time of filming."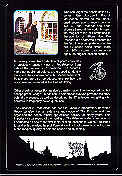 "Other drawings reveal Portmeirion's transformation into the mysterious, but escape-proof 'Village'. In addition, a comprehensive text provides the story behind the scenes, as well as describing the 17 episodes and giving vital answers to frequently asked questions."
"The Prisoner in Portmeirion has been 20 years in preparation. Its writer, Roger Langley, has an extensive knowledge of The Prisoner and has organized the series' official appreciation society for many years. This important visual record of the making of The Prisoner is also a reminder of Portmeirion as one of the first major filming locations in Wales. Published for and with the added help of Portmeirion, this book presents a lasting look at the magical quality of both the series and its setting."
Over 220 pictures and more than 120 pages help tell the story of the filming of this classic series.
Available to Six of One members directly from Portmeirion. Members, please contact the society for ordering details!
---
Previous News Concerning the new Prisoner film:
The following, from a Hollywood insider, was dated May 1st, 1999.
The following is a fairly detailed report of the current status of the project as well as the history. I don't really care to site my specific sources, but most of this information is "public" and has appeared in the film industry trade papers at various times. Stuff at the bottom about the script is from my own sources and you can take it or leave it as you like:
The rights are currently controlled by USA Films, which is a NEW company being set up by Barry Diller. Barry recently purchased October Films, Gramercy Films and the remaining Polygram Films assets from Seagrams (which owns Universal). [For history buffs, ITC, who owned the film rights originally, was purchased by Polygram Films a few years back.
Polygram assigned the Prisoner feature adaptation to Propaganda Films, a wholly owned subsidiary. Last year Phillips, which owned Polygram, sold Polygram to Seagrams. Seagrams spent a year trying to unload the film assets of Polygram, as they only wanted the music assets. They couldn't find one buyer, so the assets were split up and sold off in pieces, with the above named assets going to Barry Diller, who also owns the USA channel, the Sci Fi channel, QVC and the Home Shopping Network.
Propaganda was split into two companies, with the commercial and music video divisions going to a man named Gary Beer, and the feature assets, including the Prisoner, going to Barry Diller.]
As part of the original rights negotiations, Patrick McGoohan became and Executive Producer and was commissioned to write the first draft of the screenplay. When the draft was delivered (several years later) PMG and Michael Kuhn (then head of Polygram) got into a very public fight over the nature of the project. PMG then got involved in other things and took a back seat in the development of the Prisoner.
At that time, Simon West, who had been a Prisoner fan since he was a child, was just finishing up Con Air. He had a very close relationship with Propaganda and with Propaganda CEO Steve Golin, as West has been a commercial director signed to Propaganda for many years. [He's one of the industry's leading commercial directors, and one of a long list of feature directors to have "graduated" from the ranks of Propaganda's commercial and music video rosters into the feature world, along with the likes of Michael Bay (Armageddon, The Rock), David Fincher (Seven,The Game), Alex Proyas (The Crow, Dark City), Dom Sena (Kalifornia, nowdoing Gone in Sixty Seconds for Bruckheimer), Spike Jonze (just finished Being John Malkovich) and David Kellogg (just finished Inspector Gadget)-- but I digress.]
Anyway, off of the initial word of mouth from Con Air, Simon signed an overall feature development deal with Propaganda (who also had deals with David Fincher, Jane Campion, etc.). He expressed a very, very strong interest in becoming attached as a director to The Prisoner, and since he was very tight with Steve Golin, and supposedly had a strong take on the project, and since there was a lot of heat on him at that time, he got the gig.
Propaganda decided not to move forward with the McGoohan script and instead hired Konner and Rosenthal ("A List" action writers with a huge list of credits -- check the IMDB for specifics). While they were writing, Simon took a job with Paramount, directing The General's Daughter (which comes out this summer). The plan was to start shooting the Prisoner this fall, beginning prep a few weeks after The General's Daughter came out.
A few weeks ago, the first draft of the Konner and Rosenthal script was delivered to Propaganda. Right after that, however, Propaganda's feature division was dissolved (as a result of the sale to Barry Diller), and all but two of the development/feature staff were laid off. The Prisoner (along with the rest of Propaganda's slate) became the property of USA Films. As far as I know, it's still very much a "go" project, and theindications are that Barry Diller specifically singled it out as something he wanted. However, it's going to be a while before Gramercy and October are merged into the new company (USA Films, although one or both might keep their original names) and the new company's development department takes shape. In the meanwhile, I think Konner and Rosenthal are working on the second draft of the project.
As far as the future of the project -- I think it's a bit uncertain right now. It's a high profile project with an A list director attached, so it's unlikely that it will be shelved. However, it's not clear whether it will be a USA Films production, or whether they'll do some kind of split rights deal with another studio, most likely Universal.
It's certainly going to be in limbo until after the Cairns Film Festival (because all of the October and Gramercy executives are dealing with that right now), but that might not put it too much behind as it's going to take a while for the second draft to be written anyway.
Contrary to many, many, many rumors that have floated around, there is no cast attached at this point. There have been a lot of conversations about it, as there always are with a project of this level, but no offers have ever been made. The names that have been thrown around, as far as I know, are very similar to the names that have appeared on people's "wish lists" on this very newsgroup. I know that Mel Gibson is a fan of the project and a personal friend of Patrick McGoohan's (he was in Braveheart, as I'm sure most of you know), so he's probably the leading contender. However, he's not available for a long time, so if the project is really going to go this year, that would rule him out (although I imagine that if he said he wanted to do it, the studio would wait for him).
As far as the script is concerned -- as it's going through a major rewrite, I don't know all the specifics about how it's going to end up. Here's a few general things that I know about the first draft (keeping in mind that they might completely change in the next): It's set in the near future (definitely post Cold War) and Number 6 is now an American, working for something like the C.I.A. in an anti terrorist kind of field. It's no longer set in Portmerion, or rather, the Village as described in the first draft, is nothing like Portmerion -- however, I know that this is a major point of contention among some of the "creatives" involved, so it might change. (Definitely, the Village is changing from how it was written in the first draft, so I won't even bother to describe it.) Contrary to some of the bad press that resulted from the PMG/Michael Kuhn split, it's not overloaded with car chases and explosions anymore than the original TV series was; and in fact it's infused with a good deal of the original psychedelia, philosophical trickery and psychological mind games that made the TV series so great. In my opinion, it's feels like it's very true to the tone of the TV series, although some of the thematic elements are very difficult to translate to a post Cold War world.
That's really about it. In summary, here's the status:
Rights: Controlled by USA Films
Distributor: Unknown. USA owns Gramercy and October, although it will likely be too large a movie for either of those companies, so it will likely go out through a split rights agreement with another studio, with Universal being the leading contender. The international distribution will almost certainly being handled by Polygram International (which is owned by Universal).
Producer: Unknown. Formerly Steve Golin and Propaganda Films. Steve Golin might still be involved. Patrick Macgoohan is attached in some capacity, most likely as an Executive Producer. Simon West will most likely end up getting some kind of producer credit as well.
Director: Simon West
Writers: Larry Konner and Mark Rosenthal
Cast: TBD
Start Date: TBD, possibly fall 1999 (certainly not before then)
Release Date: TBD, although certainly not before summer 2000 (more likely fall or winter 2000, if it stays on track)
Budget: TBD, but most likely in the $50 - $100 million range.
---
The 30th Anniversary Prisoner Celebration Was Held On Saturday, March 15th 1997
Shown at left is the event Souvenir Program
The Party was a smashing success! Details were published in our magazine.
The Great Western Royal Hotel, Praed Street, Paddington, London W2 1HE, England
In conjunction with PolyGram television, Welsh Tourist Board, Caterham Cars and 'The Prisoner' Official Appreciation Society, Six of One.
To mark the 30th Anniversary of The Prisoner television series, Six of One mounted a huge celebratory event in London. With the full support and sponsorship of PolyGram Television, the society presented a full day of screenings, guest interviews, displays, competitions and much, much more. In excess of 100 Prisoner personalities were invited. Invited guests included actors and production team members from the original television series.
Festivities began around 10:00am on March 15th, 1997 there was a full program of events until early evening, at which time a 'dreamy party' extended the fun until around 10 p.m.
Honorary President of the Official Appreciation Society, star Patrick McGoohan (who played No.6 in the series) was in contact to endorse the celebratory event. A full report was in the Spring 1997 society mailing!

The enamel badge made expressly for the event
---
Stop "missing out" on the juicy details of these and many other news stories! Join today and start enjoying the many benefits of being a part of The Prisoner Appreciation Society.
| Main Page/Joining Details| Magazine/Convention | Latest News |

The Prisoner © 2004 Carlton International Media Limited
Used with permission.
Last modified: March 13th, 2004